Yesterday was my second time to experience Memorial Day here in the United States. Yes, I've been here for over a year now (Anniversary was last May 21, 2007). How time flies by so fast. Last year's memorial day was spent with my family and relatives over at my cousin's place. Oh it was fun with all those
kwentuhan
(story telling/sharing) and karaoke (one of my favorite things to do). Honestly, at first it felt weird partying on a so called "Memorial" Day.
But this year we did quite the opposite. We spent the day at home; me and my family. I just danced, read the newspaper, biked around the village, prepared food for the family, watched the news and Ms. Universe 2007. I told you it was the oppposite. Why? Did our relatives banned us from joining them grill burgers? No. Simple, the rest of our relatives live mostly in California, some are scattered around the U.S. and the rest around the globe.
But however way we choose to celebrate this day what matters is we honor and remember those who died; whether we know them or not. And yesterday's memorial day I offer to the soldiers who died in the war in Iraq, the innocent lives that were unfortunately taken away, and the wounded families left behind. From exatly a year ago - Memorial Day 2006 - nearly 1,000 U.S. soldiers had already died. That data is only for U.S. soldiers, how about their opponents? And the lives lost and affected due to this war? The number of children with diseased parents increases every year and that figure results to various negative acts in our society.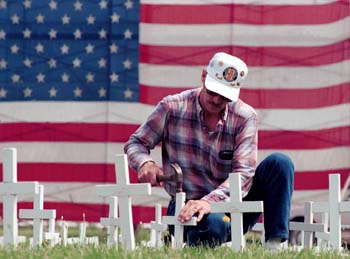 We will never know exactly when this growing war will end. But let us at least honor the brave souls who fought for their countrymen and for their principles. May their families be able to move on from such lost and the children continue to walk on a straight path despite the lost and absence of parents to guide them.
Links to this post